CSR Performance Ladder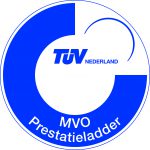 The CSR Performance Ladder can be introduced by organisations that feel the need to include structural CSR policy-making in their management system. The purpose of the CSR Management System is to manage the development and implementation of CSR policy on CSR indicators in consultation with stakeholders and to manage this in an effective, result-oriented and relevant way and actively communicate with stakeholders.
Corporate social responsibility means that in addition to striving for profit, you also consider the impact of your activities on the environment and pay attention to human aspects inside and outside the company. With CSR, an organisation considers the impact of its business operations on society and is accountable for its actions. CSR and sustainability are aimed at achieving a balance between the elements People, Planet, Profit (Prosperity).
Another definition of CSR is: "The conscious focus of corporate activities on long-term value creation in the three dimensions of People, Planet and Profit, combined with a willingness to enter into dialogue with society.
The CSR Performance Ladder certificate is objective proof that the organisation has a management system for Corporate Social Responsibility.
Our CSR annual report is shared with our stakeholders and can be requested via info@menten.nl